Live as if you were to die tomorrow.
Learn as if you were to live forever.
Be the change you wish to see in the world.
Gandhi
There is a point in the Hero's journey where, after many trials and triumphs, we return with a "boon" – a unique "genius" – to gift to our community, to the world. Perhaps such a boon is forthright and clear; perhaps it still emerging and learning how to walk. More likely it's some measure of both. As we sit in circle together, we share this quote from the poem Summer Day by Mary Oliver:
"Doesn't everything die at last, and too soon?
Tell me, what is it you plan to do with your one wild and precious life?"
Let's pause for a moment….
Let's honor our journey so far.
Let's recall our final Being Change intention:
– discerning our personal contribution to the Great Turning and living it with all our heart and soul.

And let's invoke our Wild Woman!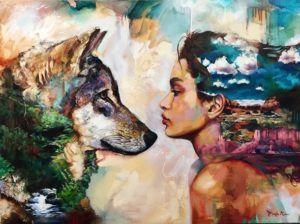 This Dangerous Old Woman, this Two-Million-Year-Old Woman is qualified, in many cases over-qualified in creating
…all the things that make our world go around
…. It has nothing to do with 'am I enough?' It has to do with 'I am so much. Where shall I start?
Where should I put my first mark, and the second, and the one after that?'
Clarissa Pinkola Estes
Come back into circle often, sisters, and share your walk: your challenges, your visions, your discoveries, your wonderings, your yearnings. Live the questions! Perhaps (we) will then gradually… live along some distant day into the answer. (Rainer Maria Rilke)
Join us in the Sanctuary (blog), sit in our circle, and share your thoughts. Guest posts (contact me) and comments are most welcome.

---
PERSONAL CALLING
Regenepreneurs
The Purpose Guides Institute
Jade Sherer – It's Our Nature
Rites of Passage Council
Emergence Institute
Alan Watts video: What Do You Desire?
LEADERSHIP
Omega Women's Leadership Center
The Leadership Quest – Anneloes Smitsman
One Woman year-long immersion For Leaders
Lionhearted Leadership – with Linda Tucker of the Global White Lion Protection Trust
Mysterial Leadership Development
Rhythm Way Mother Tongue Leadership
Warriors For the Human Spirit
Animas Institute's Soulcraft Apprenticeship and Initiation Program
Deena Metzger's 19 Ways to the Fifth World
Bioneers' Everywoman's Leadership Program
Ecology of Leadership
"Work That Reconnects" Facilitator
ACTIVISM
Project Drawdown
Women Lead Climate
Countdown to a Better Future
Andrew Harvey – Institute For Sacred Activism
Regeneration – Ending the Climate Crisis in One Generation
Women's Earth and Climate Action Network
Women's Earth Alliance
Earth Holder Community – A Mindful Earth Justice Initiative
Sacred Earth Activism
Extinction Rebellion
CIRCLES
The Circle Way
Millionth Circle
Ways of Council
The Center For Holding Space