We gather in this powerful container for deep listening, sharing, innovating, and support.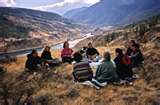 We use ritual, ceremony, guided meditations, movement, and other tools to move beyond our thinking minds to explore other realms of knowing and wisdom and being and doing.
We may give voice to our experience and what is emerging through art: a story, poem, song, photograph, dance, painting.
Some circles are for women only. Empowering women's voices and vision are especially needed if we are to have hope in loving our world back to life.
Circles take place in Ithaca, New York and by invitation elsewhere. Watch the calendar for details. If you would like to invite me to your area, please contact me.