The highest purpose of art is to ride "point" on the front line of consciousness change
…to create a field for the never-before-seen to happen.
– Daniel Dancer –
The Arts can help us step out of the rational mind and experience in the body our connection to each other and the planet. They can mirror our pain for the world, our longing for beauty, our need for healing, and can allow us to bear witness to this planet-time with courage and compassion. In this Room you can find some examples. Come back often to see what's new.
---
Article: Medusa's Curse – The Necessity of Art in the Climate Struggle by Kathleen Dean Moore
Trebbe Johnson – Radical Joy For Hard Times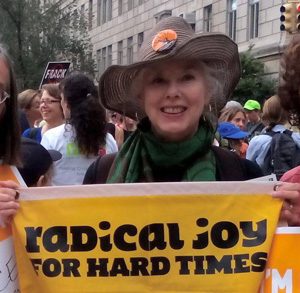 We are a global network of people who believe that making beauty is an act of resistance to the prevailing domination of the Earth. We are willing to carry in our hearts the burden of these enormous wounds to the Earth and are dedicated to bringing meaning, beauty, and value to places that have been damaged by human or natural acts. Rad Joy educates, supports, and connects communities around the world to create Earth Exchanges, experiential gatherings in which we visit wounded places, get to know them as they are now, share our stories of what they mean to us, and make a simple, spontaneous work of art there.
Earth Exchanges happen once a year and people are encouraged to create and share ceremonies in their own communities. Also see Trebbe's personal web site where she offers writings, events and more.
Based in Thompson, PA, USA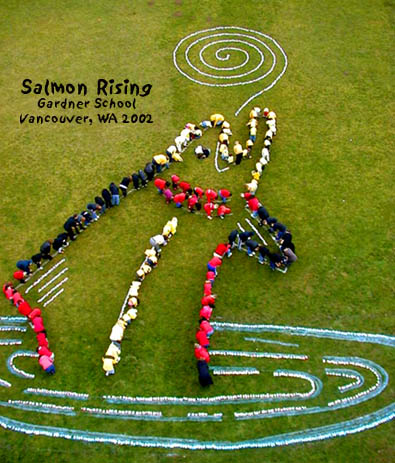 Art For the Sky is a unique, team building activity for schools and special events that helps dissolve boundaries that often exist in our daily lives. With hundreds of people collaborating in the creation of something beautiful, each living painting is reinvention of how we relate to the world and one another. In a mythological sense, these experiential works are a way to repair what we have broken and to strengthen what remains. The link takes you to the Archive page where samples of their work is located. Also see Daniel's art and photography In Concert With Nature.
Wild Woman Rising is a free on-line magazine dedicated to the fierce creative force that resides in each of us. We are dreaming and birthing; cultivating our creativity in this world which deeply yearns for it.
Here you'll find art, poetry, essays, photographs, videos and more to feed your heart and soul. Submissions are encouraged.
Art: "Sacred Places" by Karen Noel
Carla Woody is devoted to metaphor and narrative showing the common thread across cultures, ancient traditions and what lies deep beneath the surface within the human condition. She offers the viewer a portal toward the sacred aspects beyond everyday life. Also see her other web site, Kenosis, that offers spiritual coaching, travel and more.
Art: "I Hold the Knowledge Inside"
Vijali Hamilton – World Wheel
World Wheel, Global Peace Through the Arts, is an artistic forum for global understanding consisting of environmental stone sculptures, performance events, nature reserves, and wisdom centers circling the globe. By working through the arts with local artists, performers and community, Vijali addresses the local community's personal, spiritual, social, and environmental concerns. The project works toward global peace by developing awareness of community and the notion of world family.
The Roots Project's vision is to provide Earth's indigenous peoples with platforms to share and distribute their art, to create new and innovative opportunities for tribal communities to thrive and contribute to the implementation of effective 'earth care' solutions. There's a lot of interesting information here as well.

Andreas Lie's images reflect a deep appreciation for nature and the wildlife that inhabits the wilderness near his home. Beautiful, haunting images.
Gaia Orion's paintings are narratives of our personal and collective stories in these present challenging times. She deeply feels the call to return to the natural and the spiritual and that it is an absolute necessity for us as a species to take responsibility in our next evolutionary step. Furthermore, although her themes are universal they also speak more specifically with strong feminine images inviting women to embrace and reconnect to who they are in the full scope of their power and capacities.

Write2Bloom
In our current political climate, many of us can feel inundated with 'bad news'.   We may feel that there is not much we can do to change what is unfolding. Write to Bloom Workshops provide a place to connect, heal and grow, a place where we are empowered to find our voice and a renewed strength for our work in the world. Workshops are located in a farm environment with tranquil writing spaces, nature and  animals. Topics include "Pens to the Page for Peace" and "Poem-Making to Heal Societal Wounds."
Located in Trumansburg, New York.

Heather Jo Flores – "Writing Heroines": An unapologetically feminist, game-changing online training for women writers, focused on using the Heroine's Journey to create stories that change culture. Write unforgettable stories that subvert patriarchy and elevate the voices of powerful women who don't use violence to solve problems.