There is much to grieve in this world.
Without that grieving and acknowledgement of great loss,
we are at risk of losing our souls.
Dean Walker
Continuing to ground ourselves in the archetype of the Hero's Journey, we now enter the "unknown zone" – a period of initiation. Here we will explore the next two Being Change intentions:
– doing a significant amount of personal depth work and healing – indeed, we have been for some time;
– facing and transmuting our grief, rage, fears, and uncertainty in community with others.
Our first task is to create a sacred sanctuary, both within and without, in solitude and in community. We give ourselves permission to invite in only what strengthens and nurtures our creative life force, allowing us to process our emotions, clear our vision, and stand in our power.
We are capable of suffering with our world, and that is the true meaning of compassion.
It enables us to recognize our profound interconnectedness with all beings.
Don't ever apologize for crying for the trees burning in the Amazon or over the waters polluted from
mines in the Rockies. Don't apologize for the sorrow, grief, and rage you feel.
It is a measure of your humanity and your maturity. It is a measure of your open heart,
and as your heart breaks open there will be room for the world to heal.
Joanna Macy
As we sit together in circle, we acknowledge the enormity of what we're being asked to hold….
Still, our love for Life and for the Earth is so deep and profound we can't resist that surging of fierce compassion that steadies and inspires us. And we are not alone.
We tell stories of our own healing journeys, of our despair and empowerment work for all beings.
And we begin to (re)claim the Wild Woman archetype: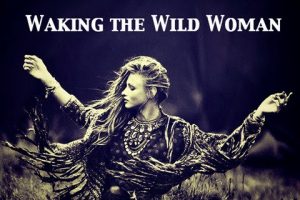 Within every woman there lives a powerful force, filled with good instincts, passionate creativity, and ageless knowing.
She is the Wild Woman, who represents the instinctual nature of women.
Wild Woman is the female soul; she is the source of the feminine.
She is the Life/Death/Life force, she is the incubator. She is intuition, she is far-seer,
she is deep listener, she is loyal heart. She is the one we leave Home to look for.
She is the one we come Home to.
The doors to the world of the wild Self are few but precious.
If you have a deep scar, that is a door,
if you have an old, old story, that is a door.
If you love the sky and the water so much you almost cannot bear it, that is a door.
If you yearn for a deeper life, a full life, a sane life, that is a door.
Clarissa Pinkola Estes
Join us in the Sanctuary (blog), sit in our circle, and share your thoughts. Guest posts (contact me) and comments are most welcome.
---
Encountering the Wild Woman – beautiful article by Kathy Stanley
We Are Wildness – Reconnect with the wildness of the world
A Wild Soul Woman – A Journey Into the Heart of Your Untamed Self  – A self-guided course with Mary Reynolds Thompson and Treesisters
Desperate Love Letters to a Wounded Earth – compassionate and courageous essays from Deena Metzger
Work That Reconnects helps people discover and experience their innate connections with each other and the self-healing powers of the web of life, transforming despair and overwhelm into inspired, collaborative action.
Good Grief – 10-Steps to Personal Resilience & Empowerment in a Chaotic Climate
Post Doom – Regenerative conversations exploring overshoot grief, grounding, and gratitude.
Council on the Uncertain Human Future – Imagine sitting with a small group of people who are ready to look honestly at the climate crisis and face together the implications of what is taking place, lean into the loss and uncertainty, and feel out possibilities for our individual and collective behavior. Finally, we ask ourselves how we might live now, given what we are coming to know.
Grief Tending in Community – Welcome to a place where grief is welcome knowing that without space to grieve, our joy, love, and aliveness may diminish and shrivel.