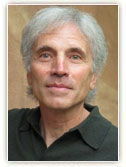 Bill Plotkin continues to be, in my mind, one of the most important people on the planet – his work is that innovative, that necessary, and that potentially transformational. I feel moved to give him yet another mention in this blog.
Bill has written three books and, while each can stand alone as a brilliant contribution to evolving humans and restoring the planet, combined they offer a template for human/nature healing and wholing that is of truly epic proportions.
Creating the context for the other two books, Nature and the Human Soul "introduces a visionary ecopsychology of human development that reveals how fully and creatively we can mature when soul and wild nature guide us."* Humanity needs to grow up and out of its current stage of (pathological!) adolescence, and in this volume Bill "presents a model for a human life span rooted in the cycles and qualities of the natural world, a blueprint for individual development that ultimately yields a strategy for cultural transformation."
Soulcraft "is a trail guide for the mystical descent into the underworld of soul: what the descent is, why it is necessary, how to recognize the call to descend, how to prepare for the descent, what the process looks and feels like, and what practices initiate and accelerate the descent and maximizes the soul-quickening benefits of the journey." This is a process that is sorely missing from modern day culture with devastating consequences.
In Wild Mind we discover that "our human psyches possess astonishing resources that wait within us, but we might not even know they exist until we discover how to access them and cultivate their powers, their untapped potentials and depths." It shows us that "the key to reclaiming our original wholeness…is to fully embody our multifaceted wild minds, commit ourselves to the largest, soul-infused story we're capable of living, and serve the greater Earth community."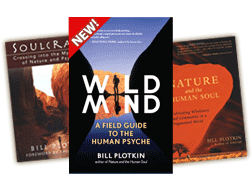 These three volumes embody a hero's journey of initiation into our fullest human potential and a truly interdependent relationship with the natural world. They are beautifully written, deeply heartfelt and infused with decades of scholarship and the wisdom of experience. I hope you read them and then read them again. You can learn more about Bill, his books, and the Animas Valley Institute here.
* Quotes are taken from the books. I could not have said it better.